Below is a list of my short stories featured in anthologies.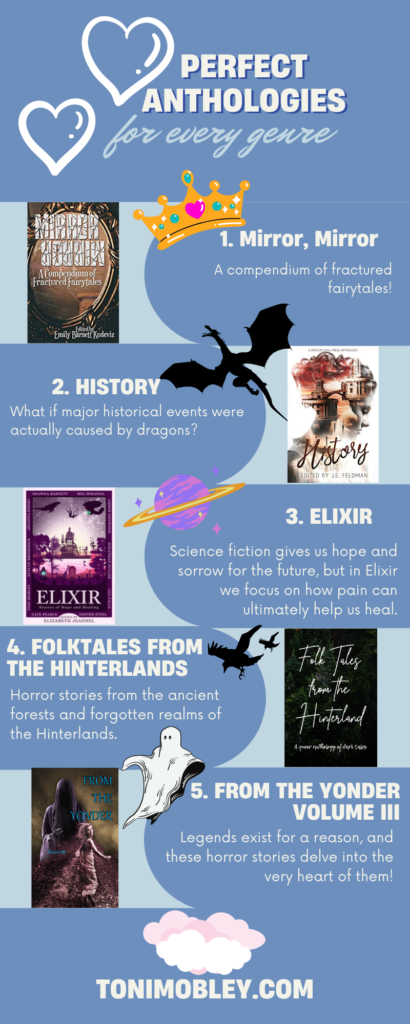 ♥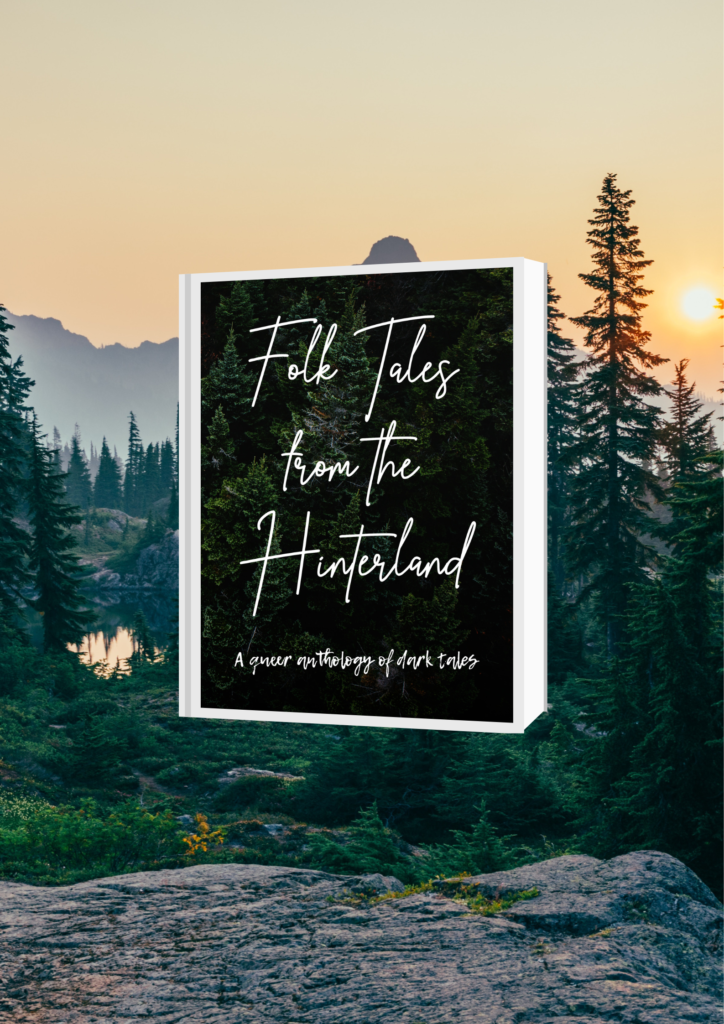 ⚔️ Folk Tales From the Hinterlands ⚔️
"Come get lost in the Hinterland with these ten dark tales that draw on inspiration from folklore.
Clever mortals fool Death, escape peril and battle curses. Witches seduce with malicious intent and monsters trick across different centuries. A child discovers a hidden secret about themselves while a hell-hound finds their past. Love is found between fearful creatures and a rivalry between cousins comes to a bitter end.
The line between what is good and what is evil blurs, leaving you asking yourself, who is the monster here, and would I act any different if placed in their shoes?"
👾
💙My short story, Not All Monsters, is a story of redemption and sacrifice told through the eyes of a young woman who lives under the shadow of a monster with her mother and sister in the south of France.
👾
💸Support it here!
♥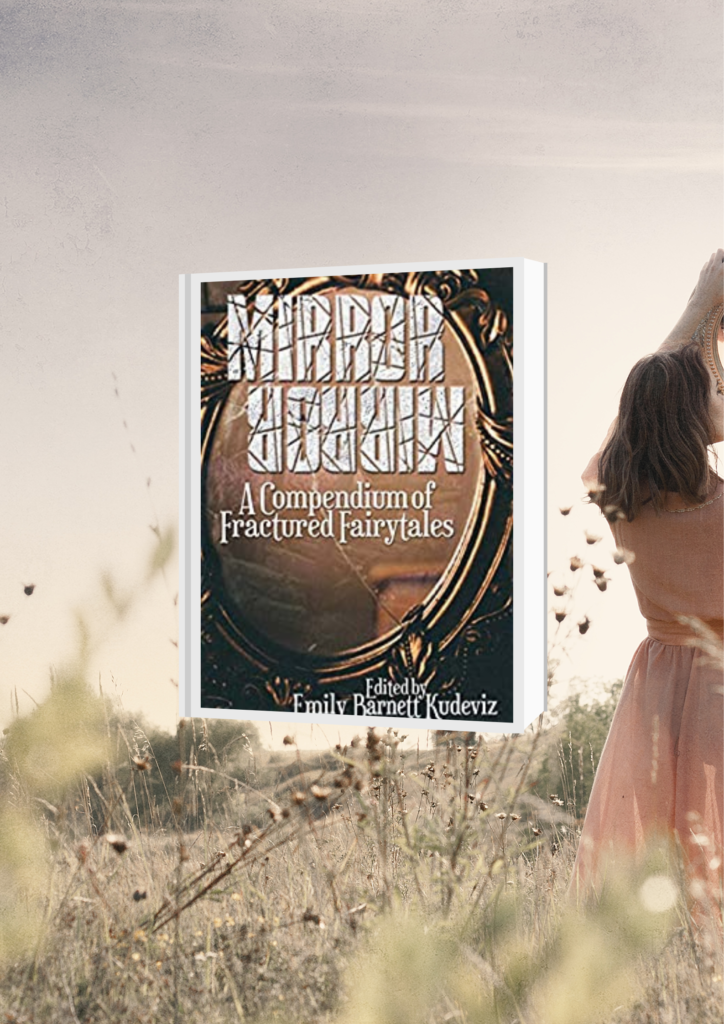 👑Mirror, Mirror: A Compendium of Fractured Fairytales👑
"Come step through the mirror into a world of fairytales turned upside down, where dancing princess fall in love with goblin kings and disabled princesses don't need to be rescued from tall towers.
Join fourteen authors as they explore fairytales from around the world, altering our expectations of stories we thought we knew so well. Each tale is a reimagined version of beloved stories, updating them for the modern reader and urging us to think outside of the box.
What will you find when you step through the looking glass?"
🧜‍♀️
💙My short story, These Moonlit Tears, is a Little Mermaid retelling. Based on the statue of the Little Mermaid in Denmark, it is told from the perspective of Ariel encased in stone. It shows her that although love is a curse, it can also be a boon, and such risks are sometimes worth it. Ariel must make the decision to break free from her restraints, or spend the rest of eternity watching those around her live lives she could only dream of.
~
💙My short story, This Marble Tower, is a Rapunzel retelling. An #Ownvoices piece that is told from the perspective of Rapunzel. Many assumed Rapunzel was locked away for her own good, but what if she was relocated to that lonesome tower because she was disabled and therefore viewed a burden by her family? When the king passes and an adventurer comes calling for her, Rapunzel must brave the dangers of the woods to retake what is rightfully hers.
🏰
💸 Support it here!
♥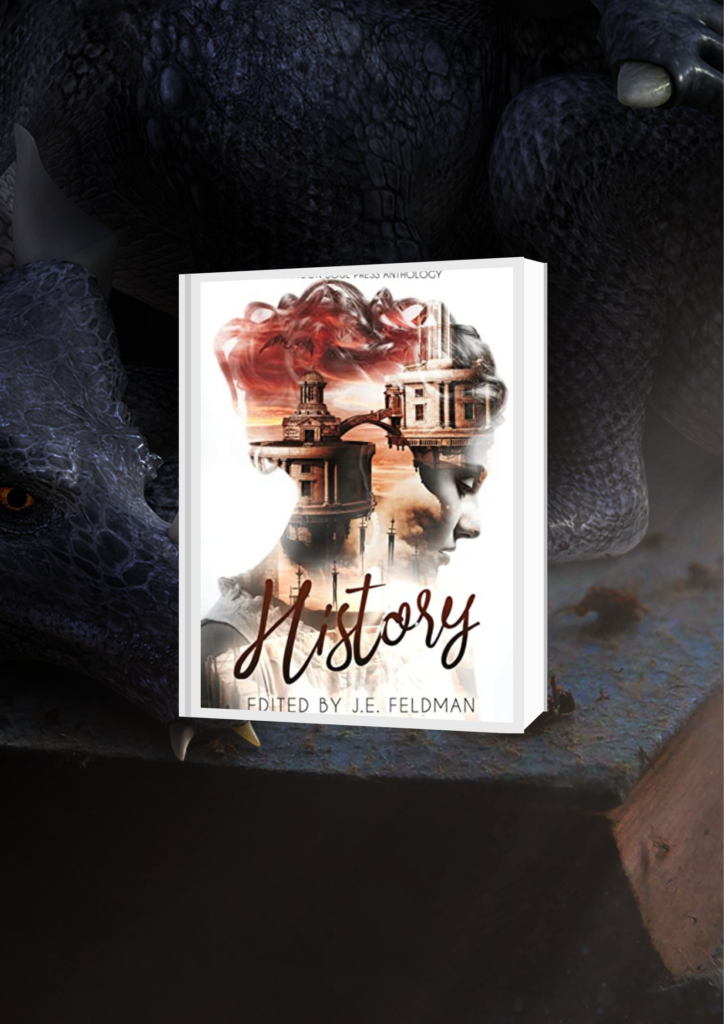 🐉History🐉
"Real historical events, but with dragons.
These tales highlight important events in our past with the strong influence of dragons. Why did the Library of Alexandria actually burn? Did miners really give up the search for gold because of a shortage? What was Genghis Khan's true secret to forming a successful empire?
Many more await in the eleven stories within."
𓋖 𓀷 𓂀 𓁴 𓅊
💙My short story, Queen of Glass, is featured within. History remembers Cleopatra, the last true pharaoh of Egypt, as a woman of beauty with a penchant for glass. Most notably, cups and vases made of obsidian forged in insanely high temperatures. Historians have speculated where she obtained the glass, from sending her people to lava fields, or finding it floating off the coast of the Mediterranean. But what if there was a more sinister reason behind it, such as the enslavement of a creature some thought was a myth? Historians argue a combination of earthquakes and tsunamis cast her city beneath the sea. But what if the origin of Cleopatra's home vanishing was because of her love for shiny black glass procured through dragon fire?
𓋖 𓀷 𓂀 𓁴 𓅊
💸 Support it here!
♥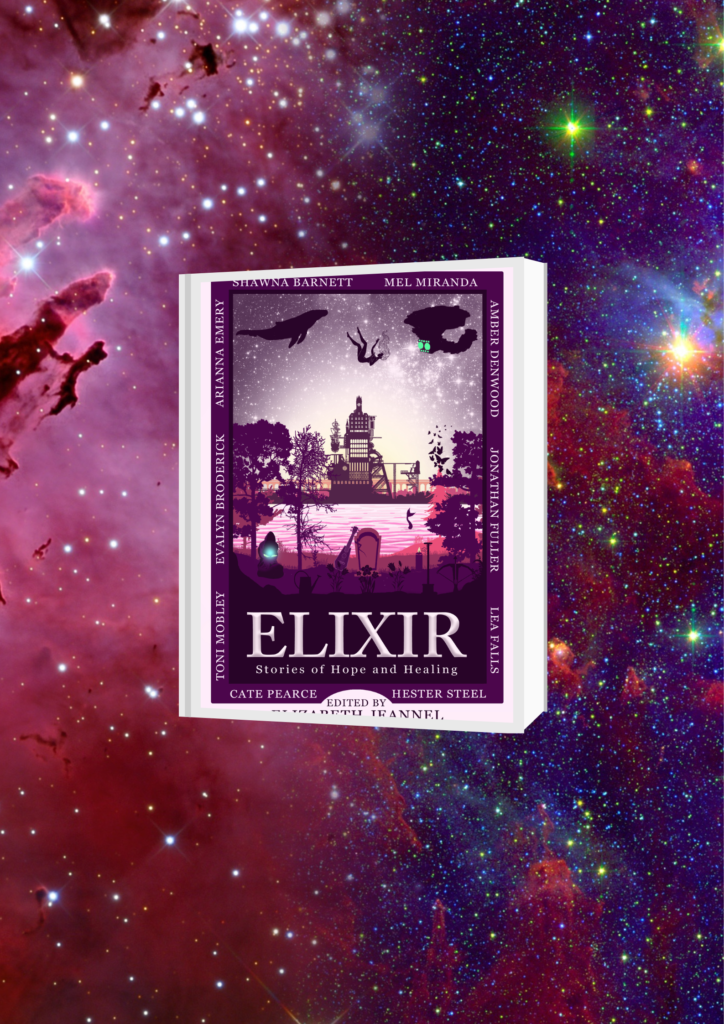 🪐Elixir: Stories of Hope and Healing🪐
"For those looking to escape, discover, heal, and believe, Elixir will take you to worlds where light always finds its way.
Elixir is a collection of LGBT science fiction fantasy stories themed in hope and healing. If you've ever wanted characters to go through the ringer but end happy regardless, this is the escape you've been looking for. Featuring space travelers, aliens, witches, alternate realities, alternate planets, mermaids, and demon hunters, Elixir very well has something for everyone."
👽
💙My short story, Nebula, follows the story of a scientist who, with the help of the blood from an extraterrestrial being, develops the cure for many of humanity's most dehumanizing diseases (Alzheimer's, ALS, Dementia). Except it is simply not enough, and she is faced with a choice: save humanity, or save the last alien.
👽
💸 Support it here!
♥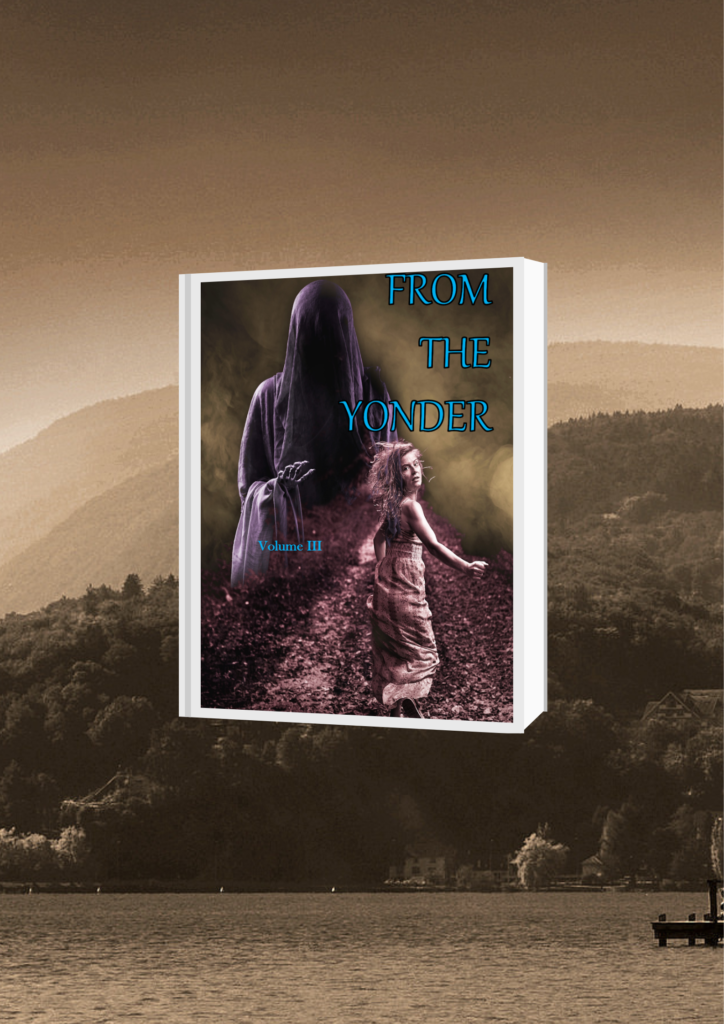 💀From The Yonder: Volume III💀
"How's Your Sanity?
Ever lost a lover? A friend? A child?
Does the press of years erode your beauty?
Do precious threads vainly hold your sense of reality together?
Or maybe, you just need a good meal."
👻
💙My short story, Am I Pretty?, brings to life an ancient Japanese legend of a malicious female spirit. She wanders the dark and lonely parts of Japan, asking others if they think she is pretty. But regardless of your answer, you won't like the outcomes.
👻
💸 Support it here!
♥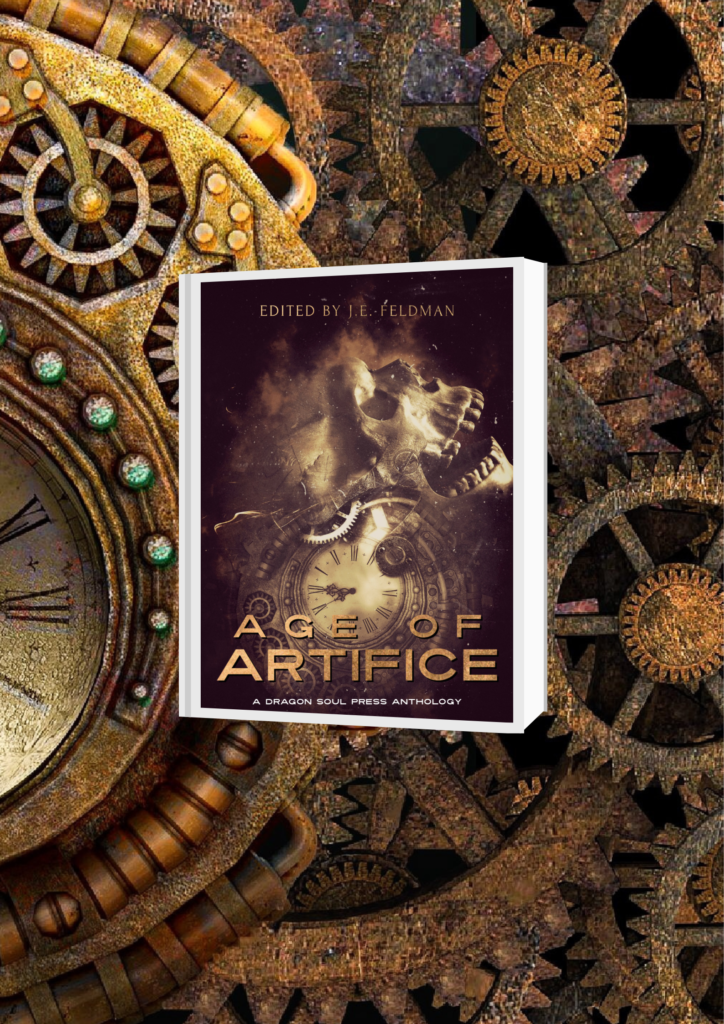 ⚙️Age of Artifice⚙️
"Gears grind in this steampunk collection.
From sky pirates, elite businessmen and inventors, these characters use steampunk technology to their advantage. From cities brimming with life to apocalyptic wastelands, survival oftentimes comes with a hefty price."
💀
💙My short story, Wastewanderer, follows Eleni: a loner who travels amongst the dune sea of a world that humanity has destroyed. Life is rough in the dune sea; water preserves and food are few and far-between. But amongst the ruins of a world long forgotten, Eleni discovers a diary which leads her on a journey across an ancient sea to find a chance at paradise. No more hunger, no more thirst- just peace. But between her and paradise lies a world of dangers: giant scorpions, sandstorms, and mercenaries roam the sands- and she is but one girl.
💀
💸Support it here!
♥
👻Haunt👻
"In a world where so many dark things go bump in the night, terror awaits around every corner as these authors take horror stories to the next level. Discover ghosts, demons, and your worst nightmares. Read at your own risk."
👹
💙My short story, Within the Dark: What starts as a normal evening filled with reverie ends in fear, as a streak across the sky renders the entire world without light. From within the darkness stalks unknown creatures that kill without mercy, and humanity takes to the safety of closed doors, huddling in fear. But even concrete isn't enough to hold back the creatures. After surviving the first night, people learn the monsters are not invincible, and they are not alone, and the only way to survive is to fight back.
~
💙My short story, Whispers the Wind: Northern Virginia, 1748. A small town cowers in fear of a supernatural being in the woods, hungry for those who stray too close to the fence line. A young girl, designated as an outcast by the town for her disability, spends most of her days out of sight, out of mind. Until she learns the truth about the creature in the woods, and the dark secret her town hides.
👹
💸Support it here!
♥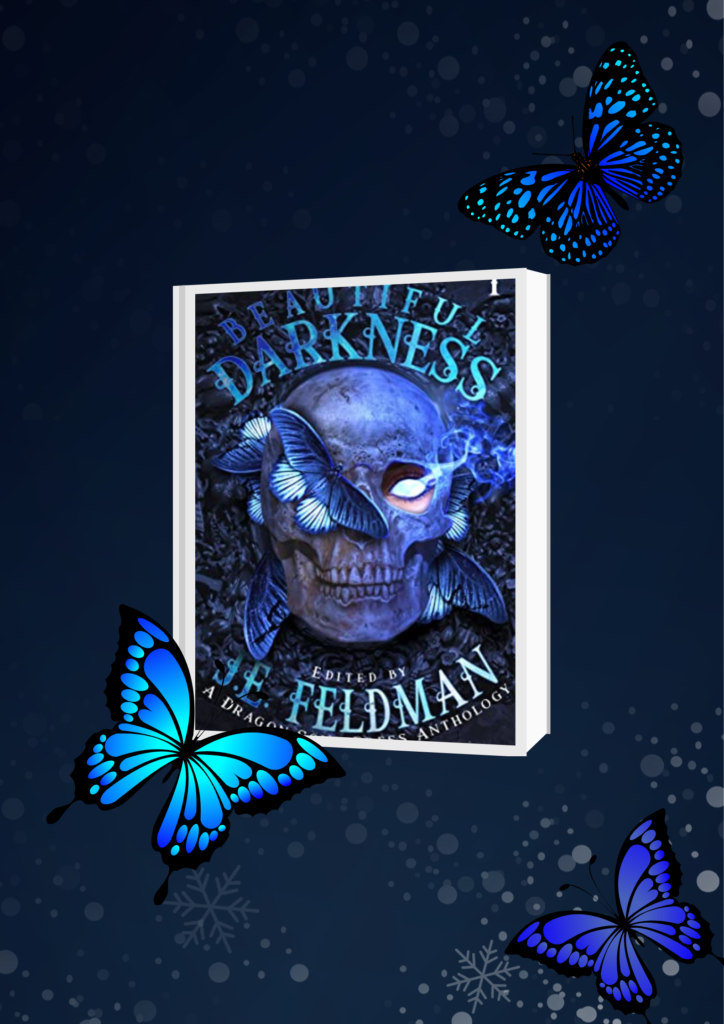 💐Beautiful Darkness💐
Ghosts, demons, and more monsters. A continuation of the Haunt anthology…

"In a world where so many dark things go bump in the night, terror awaits around every corner as these authors take horror stories to the next level. Discover ghosts, demons, and your worst nightmares. Read at your own risk."
🦴
💙My short story, The Bonelands: Outside the pristine ivory walls of Florentine, monsters roam the world. Every year, they cast those accused of condemnation by the esteemed Order of the Brotherhood into this world to beg for redemption. But no one has ever obtained redemption in their eyes, and Briar knows this all too well. When she finds herself amongst the condemned and cast out into the Bonelands, Briar fights to survive after seeing the others torn to shreds by the creatures that inhabit this new dangerous world. But things aren't as they seem. These monsters look familiar, almost— human-like. And soon enough, Briar finds herself cornered by a creature that knows more about Florentine than Briar could even comprehend. She is presented with a choice: become this monster's instrument for revenge against the city of Florentine, or perish like her fellow condemned.
🦴
💸Support it here!
♥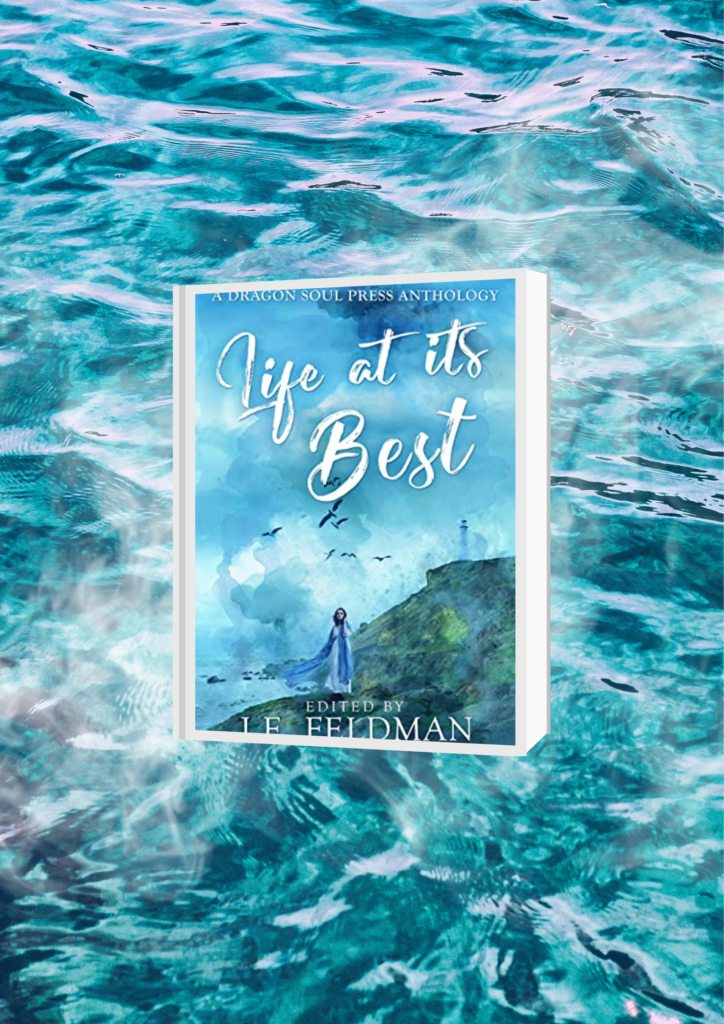 🕊️Life at its Best🕊️
The ups and downs mean you're alive.

"Sometimes, life knocks you down and it gets harder to pick yourself back up. Whether it's for family, friends or themselves, these realistic characters continue on. The rollercoaster of life is harsh to them, but they persevere in their own ways."
🌿
💙My short story, Fernweh, is about a girl named Nancy. Nancy has lived a sheltered, boring life in a small town in the English countryside. Occupying her days working at a coffee shop, she listens with longing to the stories of travelers that pass by. Lost in daydreams of one day following in their stead, she isn't prepared for when one patron recounts her similar life of nothing, and how she forsakes it all to travel the world. She offers Nancy the chance to do the same, but Nancy excuses such a notion, she's happy here in nowhere. She has a boyfriend who loves her, a best friend that she lives with, and a job that, mostly, makes her happy. Until, suddenly, she has none of it. Thinking her boyfriend has taken her aside to propose, he instead breaks her heart, and she begins to try to piece her life back together. Except a quiet walk along the riverbank tells her the real reason he has broken up with her, and she finally decides perhaps the life she has isn't good enough, and perhaps she should take that stranger's offer.
🌿
💸Support it here!
♥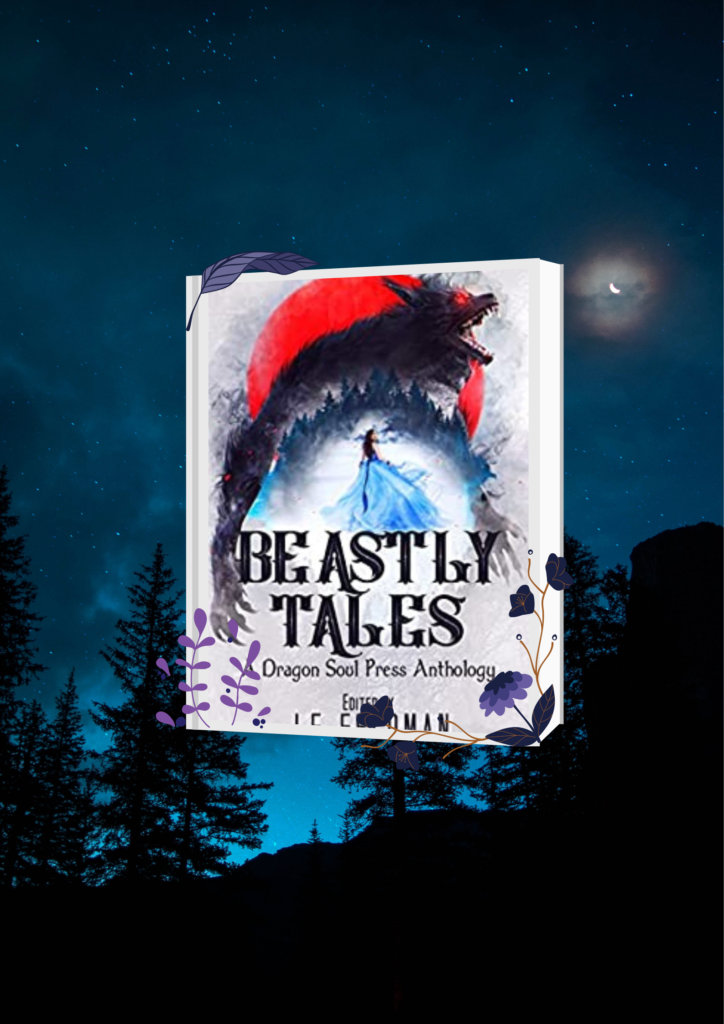 🐺Beastly Tales🐺
"Monsters deserve love too…
From werewolves, vampires, and even Bigfoot, these beasts manage to find love. Whether they are able to sink their claws into that love and keep it is another story. When it comes down to it, don't judge a book by its cover. This anthology brings a mixture of what ifs and happily ever afters."
🌙
💙My short story, To Tempt Fire: Most fairytales would have you believe that the woman is helpless, a damsel in distress, a commodity that needs to be sheltered and nurtured. This is especially true of the princesses who find themselves locked away in towers and castles, waiting for their true love to rescue them from fire-breathing dragons. But what if the princess isn't helpless? And what if the fire-breathing dragon was the one that needed rescuing? Sheltered in a tower high above the swaying forests, our princess has cornered her dragon, and she expects him to pay a high cost for intruding upon her domain.
🐗
💙My short story, To Harvest and to Hold: Many rural towns hide secrets, some more than others. In rural Vermont, however, tucked away in a forest of gold and red and orange lies a greying stone altar with a powerful deity. Lauded by the Clarke family for generations, their wealth, power, and entire lives have been shaped by the creature that is bound to the stone. With a simple offering, he can make dreams come true. Lilian Clarke, the next to inherit The Honey Pot farm that shelters the altar, comes to the Harvest Lord with a different request. She doesn't want riches or fame; she comes to be deflowered.
🌙
💸Support it here! (Please be aware this is R-Rated and may not be suitable for those under the age of 18. )
♥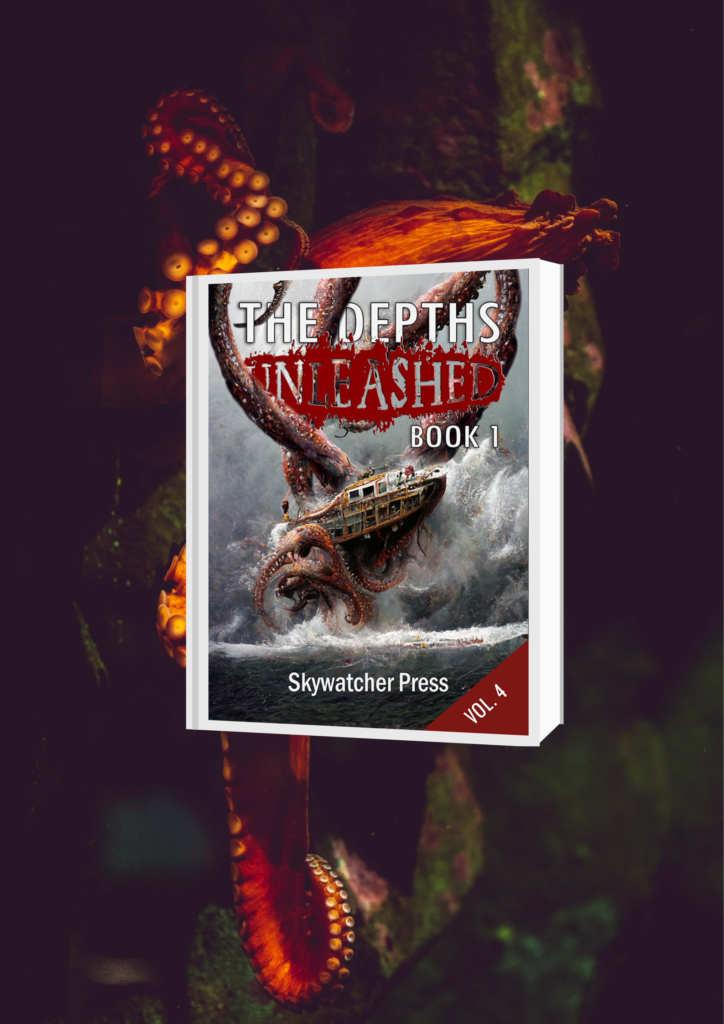 The Depths Unleashed: Book 1
"The water is a place which humans seek out for relaxation, knowing that it is innocuously threatening, we brave its dangers despite our fragility because of the joy and comfort it brings us. By daylight the water feels safe, but as the light flees into night, it becomes sinister and dark, full of unthinkable mysteries and unknown terrors. Unleashed vol 4 drags you into this dangerous water, your air is running out, metric tons of ocean is crushing down on top of you, and it is time for you to face the depths!
This volume will take you to a deep underwater prison, a city at the bottom of a lake, deep diving at 200 feet, into the unexplored bayou, an oil rig in the middle of the Pacific Ocean, a terrifying bay in Japan where locals know a kaiju lurks, to terrifying coasts, quiet seaside towns, secluded lakes, unexplored lands, and a coastal resort."
💙My short story, Orange Is The Light. After a catastrophic event, humanity turns to the deepest parts of the oceans to save themselves from extinction. In one of these last bastions of humanity, a small group of people eke out a meager living under the safety of orange-colored lights that repel the monsters that dwell just beyond its reach. Except things are not as they seem, and when the ark runs out of power, and her friends are cut off from her, she must venture out into the darkness.
💸Support it here!
♥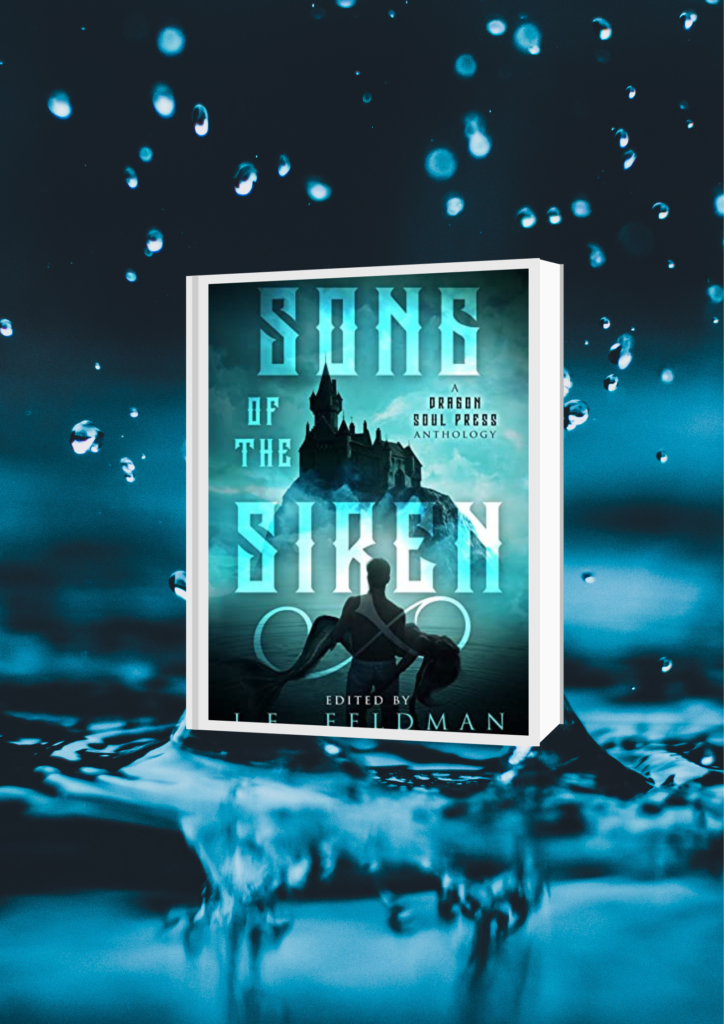 🧜‍♀️Song of the Siren🧜‍♀️
"Come take a dive.
From sirens, mermaids, selkies, and more, these tales of the deep will tug at your heartstrings. Love can warm the iciest waters, but revenge is best served cold. Watery graves await for those who push boundaries or stray too far."
💙My short story, The Abyssal Plane. For all the hunger and greed of humanity, they have only just begun to scratch the surface of the deepest points of the ocean. But their gluttony at the promise of riches has them diving deep into the depths in search of oil to feed their machines and pockets. For thousands of years, humanity assumed they were the apex predator, but they had no idea of the civilization that dwelled beneath the sea, and what would happen when that very last bastion was breeched.
💸Support it here!
♥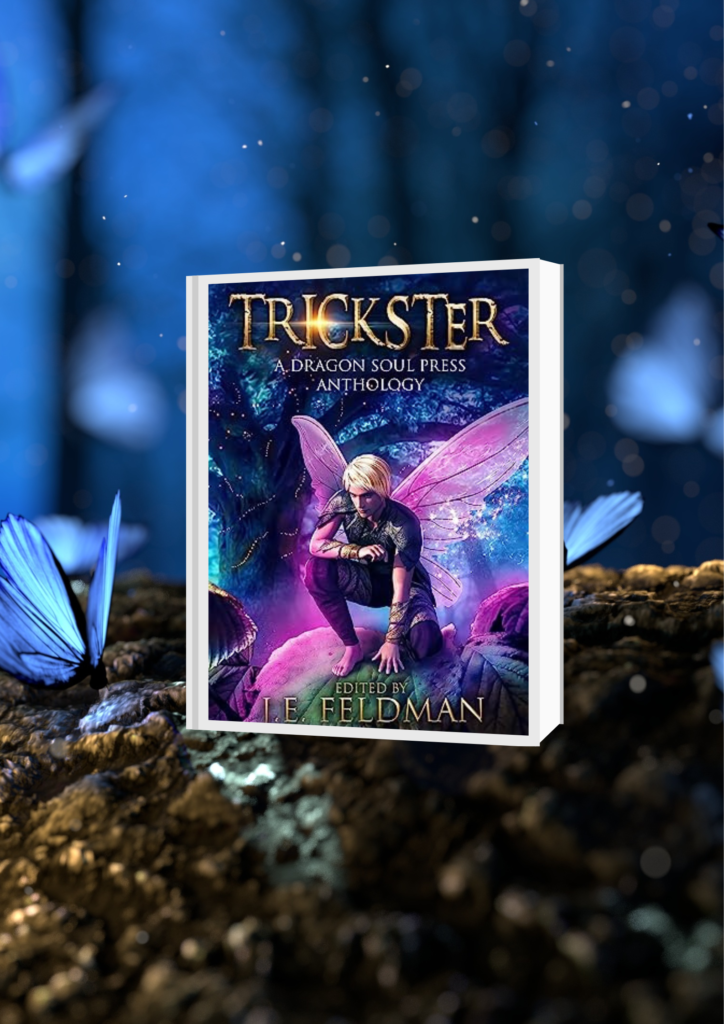 🧚Trickster🧚
"Enter the Veil.
The infamous Fae are most known for their sly ways. While tricking humans may be their specialty, they don't always show kindness toward their own kin either. The grander the scheme, the larger their boasting rights. From Sidhe, gnomes, brownies, and more, you'll always need to be on guard and vigilant."
💙My short story, Florescence; a state or period of flourishing. Holland's Keukenhof Garden's are world renown for their rich display of multi-coloured Dutch spring flowers. In a small shop outside the pavilion, it's not just the flowers that are blooming. A young florist with a unique touch has done what others can only dream of in forcing flowers to bloom regardless of season. One day she forgets to lock the shop door, and a human glimpses the real Faye De Vries: she's not a tiny, brown-haired, brown-eyed girl from the Netherlands, she's a tall, leafy-haired, bark covered, centuries-old dryad.
💸Support it here!
♥